General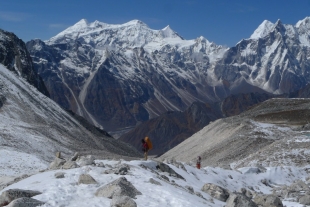 How should we spend our four weeks trip in Nepal? The main criterion for decision was trekking in less touristic areas, and the decision fell on Manaslu Circuit and Tsum Valley trek.
Manaslu region is visited by trekkers since the early '90s. In 2010 more than 2300 tourists trekked Manaslu region, making it very 'quiet' as opposed to the crowded Annapurma / Everest / Langtang regions. Nevertheless, every day of the trek we got the feeling that we "just made it". The number of tourists in Manaslu has been increasing rapidly in the last few years. In some villages a significant lodge development is seen. This will greatly improve the tourist services but will of course affect the pristine atmosphere currently characterizing the area, the unique culture and rural Nepal life that still exists there and the feeling that this is "Nepal as it used to be in the '80s". In Tsum valley it is even more extreme – the area was opened for tourism only in 2008, and during our visit there the area have seen around 3 tourists a day in average…
How this area develop as a tourist destination is a big question. Both politicians and locals use terms like "eco tourism" and "sustainable tourism development" but previous Nepal experience proved that money speaks too loudly, tourist numbers are growing and in the field some development is far from being 'sustainable'.
Indeed this is the time to visit Manaslu region, as the experience it will provide is expected to be quite different even in a few years time.
We started the trek on September 23rd 2011 and finished it on October 17th 2011. The trek was a great experience and exceeded our expectations.
Except for the actual challenges of the trek, we faced scarcity of information before and even during the trek. The Internet is full of theoretical itineraries presented by Nepali trekking agencies, which do not add any significant practical information (in the best case). Reliable independent traveler experiences descriptions are scarce.
Thus we decided to share what we know with you fellow travelers.
Logistics
Permits and entry fees
Manaslu region is a restricted area, meaning a trekking permit should be issued by a registered trekking agency an travelers should be accompanied by a guide. A minimum of 2 travelers is needed for a group.
Prices:
Permit price for Manaslu is 10$ per day.
Permit price for Tsum Valley is 35$ per 8 days.
In addition, there are conservation area fees needed to be paid:
MCAP (Manaslu Conservation Area Project) fee of 2000 Nepali Rupees (~27$)
ACAP (Annapurna Conservation Area Project) fee of 2000 Nepali Rupees (~27$), since the Manaslu Circuit ends in the Annapurna area.
Tea House/Home Stay vs. Full camping trek
Nowadays the Manaslu Circuit can be done as Tea House trek, meaning you don't have to carry your own accommodation facilities (i.e. tent) or bring any catering services with you (The Tsum Valley trek can be done as Home Stay trek).This has some major pros:
Trek logistics are quite easy.
Consumption of accommodation and eating services from the locals meaning paying directly to them and contributing to local economy.
Better interaction and experience with locals.
But we cannot do without some cons:
A compromise on food quality and quantity – While some travelers may enjoy local food (i.e. mainly Dal-Bhat) others may find it not satisfactory / enough for such a long trek.
A compromise on accommodation conditions – Some villages along Manaslu region still have basic accommodation options. (Note: In Tsum Valley, accommodation is available only within premises of locals' houses. This means that sometimes you may sleep in a shop entrance, share your room with a monk, or get up in the morning with tiny red dots on your legs).
While the number of lodges along the Manaslu trek is growing fast, the situation in Tsum valley can get tight if more than two tourist couples are arriving to the same village at the same day, since locals are still not ready to cater more than a few travelers together.
Having said that, there is a strange paradox: The less touristy is the place, the more awkward the site of camping trek convoys is. We have seen a "group" of 2 travelers in Tsum valley accompanied by a 7 porters and a guide convoy, which seems in a way like an "elephant in a porcelain shop". In Manaslu the majority of travelers arrive in organized camping treks, but we believe that more and more travelers will choose the Tea House option.
Since we are fund of the local experiences (minus the one with the red dots…) and preferred to support local communities as much as we can, we decided to do the trek with minimum amount of "Kathmandu originated support". We took this approach to the extreme – to our request, the trekking company provided us with a guide cum porter. We ended up being accompanied by a porter who had some English knowledge but lacked vital practical information, not to mention knowledge about the area.
Therefore our recommendation is to hire a guide and make sure he recently visited the relevant trekking areas.
We also hired additional porter for part of the trek, on the way (in the village of Philim). This turned out to be successful as our porter was a great person, and we knew that what we pay goes to him and his family directly.
Some prices:
A Guide price is 30-40$ per day.
A Guide cum Porter price is 20-30$ per day.
A Porter price is 10-20$ per day.
We tried to arrange the trek logistics prior to getting to Kathmandu but it turned frustrating and almost impossible. Most trekking agencies we addressed through the Internet were non responsive, and those who did showed little knowledge and understanding of the Manaslu trek. Note that including the registered and non-registered companies, Kathmandu alone has over 1000 trekking agencies (!) and we got the feeling that eventually only a handful of them really know Manaslu region from their actual experience.
Eventually we arranged everything upon arrival to Kathmandu. Most Agencies can take care of issuing the necessary permits and conservation tickets within one working day.
Expenses during the trek – Lodging and Food
As a couple we were advised to prepare 20$ per day per person for food and lodging. Eventually we ended up expending 16.5$ per day per person, in average (prices go up with altitude). Note that we mainly ate local food (i.e. Dal Bhat) and did not buy soft or alcoholic drinks. Some would probably eat more than we ate and add more 'western' dishes to their menu (although currently there are no much places where you can do so).
Therefore we recommend to take at least 20$ per day per person for food and lodging. Needless to say that you should prepare this budget in Nepali Rupees as there is no place to change money along the trek route.
When to come
Generally the recommended seasons for trekking Manaslu are similar to those recommended for Nepal – Autumn season October-November and Spring season March-April.
Autumn season means relatively stable weather with snow above ~5000 meters, and Spring season means a bit more snow and wonderful Rhododendron blossom.
Outside these seasons you may encounter various surprises. For example, we started in September, and 'enjoyed' rainy walking days and numerous landslides that their noise frightened us at night and slowed our walking the next day. December may turn quite cold in the high villages and passes. May can turn cloudy and rainy as the rainy season is "in sight".
Children asking for gifts
Children are starting to get used to tourists on the Manaslu trail, and requests for gifts are part of the local child – tourist encounter. While some of the children are asking for a "pen", others ask for a "sweet". Be reasonable if you decide to comply with requests. A sweet may provide an immediate pleasure but a pain later. An educational gift may be a bless, but may turn a child used to asking and getting gifts from tourists. For some strange reason, there are tourists who give children balloons.
General Trek description
As in most treks in Nepal that reach 5000+ meters, this is mostly a valleys trek. The trek surrounds the Manaslu range. At 8163 meters high, the Manaslu is the 8th highest mountain in the world. A Japanese expedition was the first to reach its top in 1956, by summiteers Gyalzen Norbu & Toshio Imanishi. Many other impressive peaks are seen during the trek. But peaks are not the trek's only 'peaks'. As it starts in an altitude of around 500 meters and reaches over 5100 meters, the trek is a real journey "into the Himalayas", starting from the lower hills reaching the high Himalayas with all the natural and men made landscape changes on the way.
The trek goes up along the beautiful gorge of the Budhi Gandaki river, then traverses the tiresome Larke (sometimes spelled Larkye) Pass at 5106 meters, then goes beside impressive glaciers before joining the Dudh river. The latter merges with the Marsyangdi river where you can decide if you continue to go around the Annapurna range or head back down to finish the trek.
Technically the trail has various levels of difficulty. Some parts are smooth and gradual, and some parts are pretty steep. Long sections of the trail, especially the steep ones on the lower Budhi Gandaki sections are "paved" with stone stairs that can be tiresome for those suffering from knee problems.
Services along the trek
Telecommunications
In most villages along the trek you can find a satellite or cellular based phone for making phone calls to anywhere in the world. The satellite phones are highly reliable as they work independently based on solar power. Price for an international call is 1-2$ per minute. Internet is available only in Samagaon.
Electricity
In many villages 220v electricity is available thanks to local micro hydro plants. Light and power sockets are available, although in some places you will be asked to pay a bit to charge your batteries. Villages with 220v electricity include: Arughat, Machhakhola, Jagat, Prok, Namrung, Samagaon, Samdo, Gowa, Syange.
Villages without 220v electricity usually have led lights charged by solar panels.
How Many Days?
Based on our recommended itinerary, the Manaslu trek takes 18 days, Kathmandu to Kathmandu. This includes: a day of rides from Kathmandu to the trail head, a day of rides from the trail end to Kathmandu, extra 2 days for rest/acclimatization/side trips (The sleeping stations: Arughat, Lapubeshi, Tatopani, Jagat, Ekle Bhatti, Bihi Phedi, Namrung, Lho, Samagaon, Samagaon, Samdo, Samdo, Dharamshala, Bhimtang, Gowa, Tal, Syange, Kathmandu).
If you decide to include Tsum Valley as well, we recommend spending at least 7 days in Tsum Valley. This will extend the whole trek to 25 days (The sleeping stations: Arughat, Lapubeshi, Tatopani, Jagat, Lokpa, Tsumling, Chhokang Paro, Nile, Nakyu, Gumba Lungdang, Domje, Lokpa, Bihi Phedi, Namrung, Lho, Samagaon, Samagaon, Samdo, Samdo, Dharamshala, Bhimtang, Gowa, Tal, Syange, Kathmandu).
Although possible, we wouldn't recommend shortening this recommended schedule, as the time needed for walking distances as well as the rest days are vital for your health and enjoyment. Adding more days is of course recommended.
Add at least one spare day in Kathmandu after the trek for unexpected delays.
Additional Manaslu Circuit Trek Page