Introduction
Anyone who travels extensively throughout Israel cannot ignore the notion that there is much to see in this small country. You probably wonder – how much can a country the size of New Jersey offer ? But the truth is, the more one travels the more new things are unfolded, leaving a feeling that there are endless things to learn and discover in Israel.
Take the three main cities of Israel for instance. Coastal Tel Aviv is located only 60 kilometers from mountainous Jerusalem – but these cities are two different worlds – physically and spiritually… Or take a 100 kilometers ride (45 minutes by train) along the coast from Tel Aviv to Haifa – and meet unique sights which cannot be seen anywhere else. You can easily spend two weeks exploring each one of these cities and still discovering new things every day!
Many Israelis who travel around the world encounter sights that make them think "hey, we have this in Israel…" Well, maybe on a smaller scale but we have it. Sometimes its even on a larger scale, or unique as the lowest place on earth in which the amazing "Salt Sea" (Dead Sea) resides, or the Makhteshim – the awsome erosion craters, which are exclusive to Israel.
At the junction of three continents – Europe, Asia and Africa, Israel is a natural, cultural and spiritual hub. Due to this unique position, Israel is influenced by several climatic zones. Green meadows and flowing streams can be found in the northern Mediterranean areas, while the arid desert areas provide dry meandering canyons and creeks which offer superb hiking opportunities. Four different phytogeographic regions exist in Israel, making it extremely rich with flora. Diverse fauna can also be found around here. Above all: one of the best bird watching experiences in the world, colorful marine life in the Gulf of Eilat, majestic Ibex on desert cliffs, and even wild dolphins swimming opposite the Mediterranean coast.
History has left its mark here plainly for thousands of years. Conquerors from Europe and Asia ruled Israel temporarily – Greeks, Romans, Arabs, Crusaders, Turks, British – leaving numerous magnificent heritage sites. Various religions and sects were created and flourished here, making the Holy Land the most important site in the world for Judaism, Christianity, Islam, Bahai, Druze and more.
The logo
The Earth's Microcosm clover-shaped logo is inspired by a famous medieval map created by Heinrich Bunting (1545-1606). In his map titled "Die ganze Welt in ein Kleberblat" ("The whole world in a cloverleaf"), Bunting shows the three continents of the Old World (Europe, Asia and Africa) divided by the seas, but connected by Jerusalem as the hub of the world. Such representation of Jerusalem was popular in medieval maps. Bunting painted the clover shape as a homage to his hometown, Hannover, the crest of which is the cloverleaf.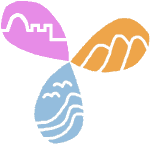 In the interpretation of "Israel – Earth's Microcosm", the image of Israel as the junction of three continents well demonstrates the diversities that exist as a consequence of this unique location. These cultural and natural treasures are symbolized in the graphic design of the campaign clover logo.
The Slogan
From the point of view of tourism, two main features characterize Israel and its attractions:
1. Israel possesses a remarkable diversity of natural and cultural treasures.
2. Israel is a small country, and all attractions are easily accessible.
While considering the appropriate slogan for the campaign, several ideas came up, such as "ISRAEL – In the palm of your hand", but then the term "Microcosm" came up, and "Earth's Microcosm" seemed just right. One may comment that such a slogan is a bit pretentious, but every image prepared for the campaign stabilized the feeling that Israel truely deserves this description.
Bear in mind that, unfortunately, Israel is also Earth's Microcosm in some disturbing aspects, which are the ones usually seen on the media. You are invited to take a virtual tour of Israel by browsing through the campaign images, and don't forget that they are only an appetizer for the real experience which is only a few hours' flight away.