On previous part we provided general information about the trek. In this post we shall provide detailed information about the trail and its various points of interest so you can plan your trek itinerary.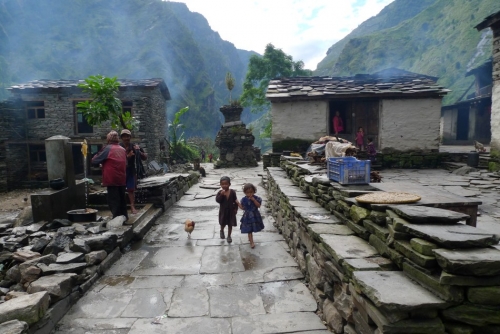 Notes:
"Half a Day" = 3 to 5 hours of actual walking
"*" = recommended sleeping place according to our suggested itinerary
Kathmandu To Arughat Bazar (One Day)
Most trekkers start the trek in Arughat Bazar. This pleasant market town is located on two sides of the Budhi Gandaki connected by an impressive pedestrian suspension bridge.
Each side of town is served by a dirt road coming from a different direction. A road from Gorkha reaches the western side of Arughat. A road from Dhading reaches the eastern side of Arughat. During rainy periods, either one or both of these roads may turn inaccessible, so allow extra walking hours if that happens.
Generally it takes half a day to reach Gorkha or Dhading by bus or microbus from Kathmandu, and additional several hours to reach Arughat, so allow a full day of travel from Kathmandu to Arughat.
* Arughat Bazar (570m)
Allow time to enjoy Arughat, its lovely bridge, and old part located near both sides of the bridge. Hotels and lodges are located on its west side, on the way north towards the trail.
Arughat to Soti Khola (Half a Day)
Most of this stage is a dirt road convenient for walking.
We chose to walk as the scenery of rice fields, waterfalls and greenery is wonderful and you pass through nice villages on the way. Arkhet Bazar (620m) is interesting for its old main bazar road and the gushing Arkhet Khola were the local children bath. There's at least one lodge here ("Manaslu Hotel and Lodge"). Beautiful local houses with dark slate roofs will accompany you when you continue north.
There are shared jeeps running from Arughat to Soti Khola. We were told locals pay 130 Rupees for the ride while foreigners pay 260 Rupees for it.
Soti Khola (730m)
Soti Khola is a tiny village where you can have lunch or sleep ("Hotel ABC") if you decide to have a short day.
Soti Khola to Lapubeshi (Half a Day)
Although the distance in the map between Soti Khola and Lapubeshi is much shorter than Arughat to Soti Khola, don't be mistaken – walking this part is much slower, as the trail goes into a rough part of the Budhi Gandaki, goes up and down and with numerous rocky parts. In rainy periods there are several waterfall crossings requiring shoes removal (or walking with sandals).
Some parts of the trail are particularly narrow and suffer from landslides and require extra care especially when mule convoys are around. At least one of the waterfalls that "decorate" the trail is tempting for washing. In Liding, on the way, there is a camping site.
* Lapubeshi (880m)
The village of Lapubeshi is spread on several hills along the trail, and it takes some walking time from the moment you enter the village till you get to the area where 2 lodges are located, at the northern part of the villages. Both these accommodation options are similar.
Lapubeshi to Machhakola (Half a Day)
Yet another day of ups and downs, and slippery rocks if rainy. Tropical vegetation adds its charm, together with the thrilling suspension bridges that start to be a regular attraction in this trek.
Machhakola (930m)
This is a pleasant village built on the slopes of the hill with several lodging options and a notable lodge development. We had lunch in "Everest Guest House" on the upper part of the village. This village can definitely be a convenient stopping place for the night. There's also a "Birthing Clinic" in the village and when the doctor's here you can get some basic  medicine and treatment if needed.
Machhakola to Tatopani (Half a Day)
This part is similar in its characteristics to the previous one (We walked from Lapubeshi to Tatopani on one day).
* Tatopani (990m)
Tatopani is a tiny point of 2-3 houses on the narrow trail between the gushing Budhi Gandaki and a tremendous cliff.
The two lodges here provide basic accommodation in dorm rooms with leaking roofs during rainy times, but the hot water in the "village square" really worth the stay. During the rainy season the sound of roaring landslides may echo in the valley, raising some worries considering the location of Tatopani right at the bottom of the huge cliff…
Tatopani to Yuru (Half a Day)
An hour+ walk takes you up to Dobhan (1070m), a small village with a basic lodging option ("Himalayan Hotel & Lodge").
After an additional hour there is a tea house at Shyaule Bhatti. Further half and hour on you climb to a tea house point where you can find "Thulodunga Hotel" and "Keraunja Lodge". In Yaru Phat the Budhi Gandaki is quite impressive as it descends rapidly in nice cascades. The valley then opens in Yuru (1330m) to a point with several Bhattis perfect for lunch.
Yuru to Jagat (Half a Day)
From Yuru it takes around 2-3 hours to reach Jagat. Some travelers continue less then an hour walk to sleep in Salleri.
* Jagat (1340m)
Jagat will impress you with its slate-paved streets giving it quite a tidy touch.
There's a campsite in the lower part of the village while at least two lodges are located in its upper part: "Manaslu Shanti" with a new section of tiny double rooms separated by the familiar wooden walls, and "Rubinala Inn" with rooms located on a back building facing a nice courtyard.
In this part of the village you'll also find the MCAP office. In this office you have to present your trekking permit and MCAP ticket, and will be able to learn about MCAP activities in the region.
It is interesting to see the growth in tourist number in this area in recent years: 2007: 1119, 2008: 1579, 2009: 1827, 2010: 2322. Interesting to note that officially the number of tourists in this area is restricted to 1000 per year… MCAP will tell you that it is the immigration department which grants permits to the region…
Jagat is a relatively central village with an elementary school where 70 children from the nearby villages get their education. We learned much about the village through and interesting conversation with the teacher Vishnu Gurung. People in Jagat make their living from Tourism, Agriculture, education, and government positions.
Jagat to Philim (Half a Day)
The trail from Jagat descends to the pleasant village of Salleri. It also has a slate paved main street, smiling locals and some lodges. Immediately after Salleri you reach Paimo. This village was affected by a huge landslide that occurred 2 days before we passed there. The landslide wiped out half of the village and turned the area into a mud bath. Luckily no one was hurt – locals felt the coming danger and left their houses in time. When you continue walking up the river you can see how Salleri is located under a similar mountain slope and is no less vulnerable, making you think about the locals living in such dangerous areas.
About 2 and half hours from Jagat you reach Sirdibas (1430m), quite a 'compact' village with nice stone houses and slate roofs. There are no accommodation facilities in Sirdibas, and the locals seemed quite inhospitable and suspicious toward us!
You pass the small village of  Ghate Khola with 2 water operated mills and reach a police check post where you have to show your permits. Immediately after that you board one of the longest suspension bridges of this trek, crossing the Budhi Gandaki following by a steep climb to Philim.
Philim (1590m)
Philim is a central village in the area. It has a secondary school including accommodation for 300 children, supported by the Japanese. The village is built on the mountain slope and its several lodges are located in the lower part (Try "New Karki Hotel"). It is recommended to climb up the village and enjoy its houses and surrounding fields and scenery. There's an MCAP office where you should show your permits and MCAP ticket.
It is in Philim where we found our lovely porter, Prem Gurung.
Philim to Ekle Bhatti (1 hour)
Half an hour from Philim you reach a lonely house-hotel with a nice view to a river and waterfall.
About an hour from Philim you reach Chiso Pani with some houses, followed by some tea houses – lodges in Ekle Bhatti (1600m). If you are not going to Tsum valley we recommend to stay here, since the next place to stay (Pewa or Deng), is 4-5 hours far from here, and our recommendation is to sleep even further in Bihi, so better break this stage now.
* Ekle Bhatti (1600m)
Ekle Bhatti is a lodges point on the trail, making it a convenient sleeping station.
Ekle Bhatti to Pewa (Half a Day)
After Ekle Bhatti Pines start to dot the landscape, where the gorge of Chhilung Khola joins the Budhi Gandaki. Near this point (About an hour walk from Ekle Bhatti) there is a branch in the trail. Note to visitors to Tsum Valley:
Those of you who plan to visit Tsum Valley will turn right here and reach Lokpa (2240m) after a one and a half hours climb. Therefore, Tsum Valley visitors will have a half a day trek from Philim to Lokpa.
Continuing on the main trail takes you through a truss bridge over the Budhi Gandaki. The trail continues north on the west side of the Budhi Gandaki. There is a branch in the trail to the village of Nyak located high above the river if you have some time to spare. We did not explore this option. Continuing on the main trail, tropical atmosphere accompanies you as you continue up the Budhi Gandaki. In order to avoid some cliffs, the trail crosses the Budhi Gandaki to the eastern side and back on two dilapidated suspension bridges, giving you an impressive sense of suspense. One of these bridges is currently being replaced by a new one.
2 hours from the Tsum Valley branch, in Pewa, there's a new lodge with a nice river view where you can stay or have lunch.
Pewa to Bihi Phedi (Half a Day)
After a bit more than an hour walk you reach Deng (1860m). The village itself is located on the mountain slope high above the trail, while the trail goes through a "lodges complex" that left quite a bad taste on us. Deng is a "major recommended" stopping point, and some new lodges recently popup there. At least one of the owners was too keen on completing his guest house, and surrounded the whole building in tin foils to solve a rain problem, giving it a look more relevant to a space station. This "Tin House", together with its fancy too expensive food menu was the main reason for us to move on from Deng.
Moving on north you pass through the tiny village of Ranagaon (1980m) with some dramatic views of the Budhi Gandaki gorge. Two hours walk from Deng you reach Bihi Phedi (1985m) where "Hotel Manaslu" is a nice place to stop with a great view to the Budhi Gandaki valley.
* Bihi Phedi (1985m) / Bihi (2130m)
The Manaslu lodge is located on the main trail in Bihi Phedi (Literally – "at the foot of Bihi"). The large village of Bihi is located up above the trail. We did not have time to explore the village, but it seems like a recommended thing to do if you like Nepal's village life. Not far from Bihi high on the mountain slope in one of the neighboring villages we spotted a Gompa that may also be interesting to visit.
Bihi to Prok (Half a Day)
After Bihi Phedi the trail branches. Many itineraries suggest going to Ghap and mention Prok only as a side trip. Since we explored both of the ways, we can definitely say – Prok should be the main option! After Bihi branch west and cross the Budhi Gandaki. The trail then climbs through the forest to the village of Prok.
Prok (2380m)
Prok is located on a small, surprising plateau above the river. It seems like a village stuck back in time, with beautiful traditional houses, large fields, welcoming residents and an interesting active Gompa. There are 2 lodging options in Prok – Ask for Norbu Samdo's place or Hishi's lodge. Prok is also a base for a day trip to Kal lake (Kal Tal).
Prok to Namrung (Half a Day)
From Prok you descend to Ghap in an hour. There are camp sites and  some basic lodges here. From Ghap the trail goes into a charming fairy tails forest. A branch in the forest trail may take you through an upper part of the forest through some villages or a lower part, near the river. We chose the latter option, where the trail crosses the Budhi Gandaki twice on wooden bridges above beautiful gorges. After two and a half hours from Ghap you reach the village of Namrung.
* Namrung (2660m)
Namrung feels touristic, although not so much as Deng. There's one lodge and campsite right on the "village square" ("Thakali Hotel"), and additional lodge further down after you leave the village. There are at least two lodges under construction in the village.
Namrung to Lihi (2 hours)
The trail from Namrung goes through the beautiful small plateau of Bhanzam, with barley fields and stone houses in between. On the entrance to the village of Lihi branch right to a small flat area with 360 degrees view of the surrounding area.
Lihi (2910m)
Lihi or Ligaon ("gaon" means village) is small but interesting village. Houses here are built like American "town houses" – adjacent to each other in a row, to save space. Some are built around a common courtyard. It also has a small active Gompa. Lihi is a recommended base to visit Hinang Gompa and Himal Chuli range. There is a campsite and lodge here.
Lihi to Lho (2.5 hours)
After crossing the Hinang Khola you reach the village of Sho. There is one guest house here, on the west edge of the village, around to hours after Lihi. 2.5 hours from Lihi you reach the village of Lho, or Lhogaon.
* Lho (3180m)
Lho is dominated by a large Gompa, that includes a home for more than 150 children that get their education here. The Gompa and its dormitories are located on the slopes of a hill above the village. The top of the hill is a recommended viewpoint to first (and some would say best) view of Mount Manaslu. Manaslu is seen here at its best, with its "fishtail" twin peaks. It is highly recommended to view Manaslu as it fades during sunset, but better during sunrise, when the morning glow shines on its top. You don't have to climb all the way to the hill top – the area above the Gompa gate is a perfect viewpoint.
There are several campsites and lodges in Lho.
Lho to Shyala (1.5 hours)
The trail from Lho climbs through quite a beaten forest towards Shyala.
Shyala (3520m)
Shyala gave us a strange feeling. Although it has a significant agricultural activity, it seems that most villagers are currently busy in construction. We haven't seen so much construction anywhere during this trek. New stone – wood houses are being built everywhere in what seems like an 'artificial' growth of the village. It is not clear whether all of it is tourism oriented, but definitely Shyala may soon turn into the preferred tourist stop instead of Lho, as its snowy mountain scenery is one the best in the trek. In spite of that, the sights of chopped down forests surrounding the village are more than annoying and add quite a repulsive attitude to this place. Shyala and Samagaon are good bases for a visit to Punggen Gompa.
Shyala to Samagaon (1.5 hours)
The trail from Shyala on crosses the slope that drains Punggen glacier and reaches Samagaon through a nice flat area, where you can at last view lovely Yaks grazing.
** Samagaon (3530m)
Samagaon is a lovely village, where houses are aligned in rows along a small river and face nice courtyards. The fields are located on both sides of the village above its houses level. Lodges are located north of the village, and they are full of action especially during the Manaslu climbing expeditions periods (We stayed at "Norbu Hotel"). The two climbing seasons are Autum and Spring, with an advantage to Autumn. This autumn season, about 25 expeditions tried to reach the summit. In spite of the difficult weather this year, most climbers managed to reach the top, some of them without the use of oxygen bottles. Samagaon is the closest village to Manaslu Base Camp – the first station of the expeditions, and villagers are often called to help carry stuff to and from the base camp, adding them a significant source of income.
It is recommended to stop in Samagaon for more than one night, for several reasons: acclimatization, enjoying the village, and a day trip to Manaslu Base Camp or Punggen Gompa.
Samagaon to Samdo (Half a Day)
The trail from Samagaon to Samdo goes north on the upper part of the Budhi Gandaki. It climbs gradually towards Samdo, and just before entering the village passes through the point where the Budhi Gandaki actually starts – at the confluence of Larke Khola and the river coming from Samdo Glacier.
** Samdo (~3800m)
Samdo is a tiny lovely village located just under the majestic Samdo peak (6335m) and the Samdo glacier. There are two lodges here – "Yak lodge" and "Tibetan Twins Lodge" named after the twin children of the family. It is recommended to stay in Samdo more than one night, for acclimatization and a day trip to the Tibetan border.
Samdo to Dharamshala (Larke Phedi) (Half a Day)
The trail from Samdo crosses the Athahra Saya Khola and goes along the Larke Khola. It climbs gradually until reaching the highest point before Larke pass where it is possible to construct a campsite and some structures – this is Dharamshala, or Larke Phedi, where the Larke Rest House is located.
* Dharamshala (4460m)
Dharamshala is a wide gradual mountain slope with campsite and a lodge called "Larke Rest House". It was renovated in 2011 and now equipped with several double rooms and a well equipped kitchen. Forget about the awful stories you heard about this place. This is now one of the best places to stay, especially with the energy you need to gain before Larke Pass. There's a great variety of food made to a tourist taste. Yes, at this stage of the trek, even complete Dal-Bhat lovers will not resist a good pizza. And it's good here! It is surprising that one of the only places along the trek where you can actually get the fancy touristic food is right here in this remote high point… Prices are naturally much more expensive than in other places. The owners of the place state that 30% of their profits are dedicated to the village development.
Dharamshala to Larke Pass (Half a Day)
This is "the big day", where you cross Larke Pass and go to another world. An early start is a must, and first light (6 am when we were there) maybe too late if you are slow due to exhaustion or illness.
Immediately above Larke Rest House the trail becomes rocky as it goes along a moraine. 2 hours from Larke Rest House you reach a beautiful turquoise lake that reflects the surrounding snowy mountains. It was partially frozen when we were there, so during colder months it may be totally frozen. An hour later you reach an empty shed. From there the trail becomes somewhat tedious as it climbs on numerous rocky moraine – hills. You are now surrounded by these rocky hills and snowy ridges beyond. Just before Larke pass there are several small shallow lakes, before the final climb to the prayer flags marking the first part of Larke Pass. It takes 4-5 hours to reach Larke Pass from Dharamshala.
Larke Pass (Larkye La) (5106m)
Larke (also spelled "Larkye") Pass is not the typical pass you expect to find in the Himalayas, where you usually reach the "U" shaped lowest place of the ridge, get a first glimpse of "the other world" and happily start your descend.
Instead, Larke Pass area is a bunch of rocky moraines. The lowest place of the ridge is actually below the trail but is out of bounds as it is a glacier full of crevasses. From the first part of the pass you don't see "the other side". You have to walk another 15 minutes along a moraine to reach the western side of the pass where you can get a glimpse of the mountain scenery of the other side.
Larke Pass to Bhimtang (Half a Day)
The interesting Larke Pass is followed by a steep tiresome descend down through a slippery trail towards the moraine of Salpudanda glacier. The trail then becomes gradual as it goes along the moraine and parallel to Bhimtang glacier towards Bhimtang. Pongkar Lake can be seen to the west, and a trail to the lake branches from the main trail about an hour before reaching Bhimtang. Allow 3-5 hours for this descend.
* Bhimtang (3720m)
Bhimtang is a surprising spot located in an almost impossible place between Bhimtang glacier and the slopes of Larke Himal range. Currently this small grassy meadow contains a few very basic lodges that are not too welcoming to make you stay more. But this is about to change soon, as a new fancy hotel with separate "cottage" rooms is under construction, equipped with fancy kitchen, shower and rooms with attached toilets. This will make Bhimtang a great place for staying more than one night, as its surrounding scenery is charming.
Bhimtang to Gowa (Full Day)
The trail south of Bhimtang is magical. The vegetation here is lush and colorful, and the trail crosses the foot of the Bhimtang glacier through fantastic scenery. It climbs to a beautiful spot decorated with prayer flags, where awesome sights of mountains surround you, with Manaslu range in sight to the south east. We spent more than two hours just on this section in order to enjoy this scenery. The trail then goes into a magical forest rich with firs. After a while it gets to a lonely house – Yak Kharka, where you can have lunch. Basic accommodation is available here as well. The trail then goes through a sick forest and a serious of landslides and after 2.5 Hours from Yak Kharka reaches Soti Khola – a lodges point and a "Disneyland" on the way – a modest lodge has been recently opened here, but the other "cottages" one seems like a Barbie Doll house in the middle of the forest, with pink colored structures hostile to the environment.
Another 1.5 hours brings you to the village of Gowa.
* Gowa (2560m)
The village of Gowa (sometimes spelled "Gho") is stretched along the trail. It takes about 20 minutes from the moment you enter the village till you get to the lovely "Manaslu Hotel" on the other edge of the village. After the basic conditions in Bhimtang, this hotel was a real treat.
Gowa to Darapani (Half a Day)
A nice 2 hours walk in a beautiful forest takes you to the lovely village of Tilche (2300m). Some travelers choose to sleep here rather than in Gowa. There's a welcoming atmosphere in the village, with a few lodges, and it is rich with agricultural activity.
2 hours from Tilche you cross the Dudh Khola on a very long suspension bridge and reach Thonche, which marks the official ending of the Manaslu trail.
Another bridge takes you over the Marsyangdi river to Darapani, where you join the Annapurna tourist highway and start missing the quiet days in Manaslu where you had Nepal almost all to yourself. From here you can continue up Around Annapurna or down to end the trek. Darapani has numerous accommodation options.
Darapani to Tal (Half a Day)
It takes half a day to reach Tal going down the Marsyangdi river trail.
On the other side of the river, the cliffs are blasted to construct a road from Syange to Chame.
During the high trekking season this part of the trail is packed with tourists, locals and mule convoys.
* Tal (1700m) has numerous accommodation options
Tal to Jagat (Half a Day)
The trail continues south along the Marsyangdi, and in Chyamche becomes a motorable dirt road. Traffic is scarce, but walking on a wide dirt road can be frustrating. Jagat (1300m) has numerous accommodation options and is a good stop for lunch.
Jagat to Syange (Half a Day)
From Jagat to Syange the trail continues on the dirt road.
* Syange (1100m) has several accommodation options and is a pleasant place to stay before starting the ride back home.
Syange to Kathmandu (One Day)
Shared jeeps and buses make the way from Syange to Besi Sahar. It is recommended to start early. First jeeps leave from Syange at about 8 in the morning when full. Locals pay 275 Rupees for the jeep ride to Besi Sahar while foreigners have to say goodbye to 500 Rupees ("Company policy"). The jeep ride takes 2-3 hours through beautiful scenery. The road in this part did not create a significant harm to the landscape as it is located high above the Marsyangdi river on gentle slopes rich with vegetation that cover exposed rocks.
Alternatively you can walk 2 days from Syange to Besi Sahar on the old trekking route which is located on the other (Eastern) side of the Marsyangdi.
From Besi Sahar you can take a bus or microbus to Kathmandu. The ride takes 6-7 hours. The ride from Besi Sahar to Pokhara is a bit shorter.